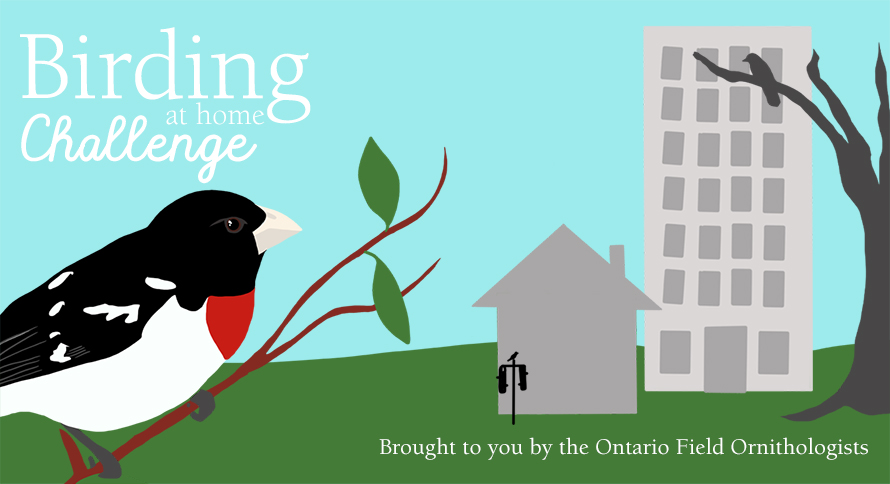 OFO's Birding at Home Challenge - The Results are In!
OFO's Birding at Home Challenge succeeded beyond our wildest expectations.
Between April 26th and June 30th, 764 birders submitted over 11,000 checklists from 423 locations across Ontario, giving scientists a wealth of data to assess the location and behaviour of birds from many more locations than in a normal year. A whopping 230 species were recorded.
OFO wishes to thank its Birding at Home sponsors: Vortex Canada, Point Pelee National Park, Art by Pelee Girl, Shrew Solutions, Jeff Skevington, and Burrell Birding for helping to make this event a success.
To view the results by county and the species recorded, go to the Birding at Home Challenge page under Events.
Upcoming Trips
Introducing the New Ontbirds and Birdnews
Open for Use Now
We are happy to announce the launch of our revamped Ontbirds email listserv and new Birdnews listserv for sharing provincially rare bird sighting and bird-related news with fellow birders across the province. Both listservs are available free-of-charge and available to all who are interested as a service to birders in Ontario. You do not need to be an OFO member to subscribe.
Ontbirds is now reserved for provincially rare bird announcements (RBAs) only, so birders across the province can quickly alert each other to the presence of a rare bird worth travelling to see.
Birdnews is intended for less time-sensitive news and information – basically everything other than RBAs which was previously published in Ontbirds should now be published on Birdnews. This includes: location reports, hawk watch summaries, CBC reports, first of year reports, and more.
Please read the Posting Guidelines and instructions on managing your subscription under Finding Birds / Ontbirds and Birdnews Guidelines.
COVID-19 Update
OFO is now asking all birders to follow local and provincial guidelines regarding COVID-19 precautions, particularly with regard to physical distancing, group size and non-essential travel.
We are currently reviewing the provincial Phase-3 guidelines with regard to restarting our field trips.
Ontario Rare Bird Alert and News Hotlines
All Ontario provincial and regional rare bird alert and news hotlines are listed for your convenience on our site, under Finding Birds / Rare Bird Alerts and News.
This page includes email Listservs, Discord, Facebook Groups and public WhatsApp groups.
Join OFO / Renew your membership
Explore Ontario's birds with OFO
OFO members have access to over 60 field trips and workshops across Ontario, the annual convention, OFO News, Ontario Birds and more. Your membership supports Ontbirds, the Ontario Rare Bird Committee, the young birders program and conservation efforts. Membership costs only $45 / year and includes up to four people at the same address. Join / renew today!
Donate to OFO
Support Us
Donations are vital to OFO's work. Donations support special programs and enhanced services to our members. This year we are fundraising for the Alan Wormington Memorial Camp in Algonquin Park which provides teens, led by expert volunteers, with an extraordinary opportunity for immersive birding and a week-long nature experience available few other places in Canada. We need your support to continue the program.
Donations over the amount of $10 are tax-deductible. Donate now!
Ontario Field Ornithologists © 1984. All photographs on the site © the photographer.