Welcome to OFO's Celebrity Birders for 2023!
Rowan Keunen, Max Segler, Piper Smith and Liam Thorne will be participating in the 2023 Birds Canada Birdathon to raise funds for OFO's Young Birders Program and to support bird research and conservation through Birds Canada.
The OFO Big Day Birdathon will be taking place this year on May 22. Our celebrity young birders have decided to do a county Big Day and have chosen Norfolk as the county to do it in. It will be an all-out, 24-hour rush to find as many species as possible.
We hope you will consider supporting the OFO Celebrity Birds in 2023!
Participation in the Birdathon is a fun and worthwhile way to participate in real life bird conservation efforts. All money raised for OFO will support the Young Birders program. Many thanks to our supporters.
Two ways to donate! Tax receipts will be issued for amounts over $20:
---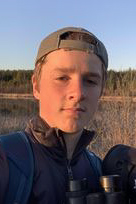 Rowan Keunen is a 17 year old birder from Flamborough. He spends most of his time birding at his local patches and is currently working hard to build up his Ontario list. Morning flight and lake watches are some of his favourite kinds of birding. In the summer, he also enjoys searching for leps and odes. A dream Ontario bird for Rowan is Willow Ptarmigan, and a target of his for the OFO Big Day is Acadian Flycatcher. He is looking forward to participating in the fundraiser this year!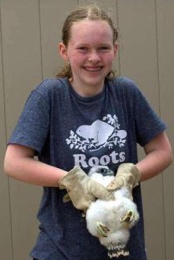 Piper Smith is currently a grade 10 student in Kitchener, Ontario. When the pandemic hit, she began to spend lots of time walking trails and taking an interest in birds and photography. It quickly became a serious passion, and soon she was researching species, reading guidebooks, and beginning her life list. She has gone to one OFO outing: the Canada Jay Weekend in April of 2022. Her favourite bird is the Barn Owl and her favourite lifer is the Marsh Sandpiper. Piper also actively participates in her local Peregrine Falcon Fledge Watch group.
Max Segler is a 17 year old birder from Toronto. He has attended the OFO Young Birder Camp twice as well as numerous other OFO programs such as the annual convention. While he will go birding wherever he can, some of his favourite places are Point Pelee, Long Point and Cochrane district in NE Ontario. His favourite group of birds are falcons and gulls. He also enjoys canoeing and is excited to be going on his first Atlas trip this summer!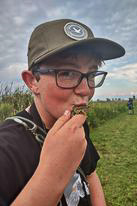 Liam Thorne is a 14 year old birder from Hamilton. Liam has been interested in birds since he was a toddler, and now enjoys birding throughout Ontario and is an avid county lister. He has been involved in banding programs from a young age and attended the OFO Young Birder Camp last summer where he had a fantastic experience. Liam doesn't have a favourite bird, but he particularly likes warblers and shorebirds. He also enjoys Atlassing and is excited for another great season.
[WP]